Family Law Attorney
Chrissy is a professional problem solver, risk-manager, and trial attorney dedicated to client service by finding cost-effective solutions for her business and individual clients.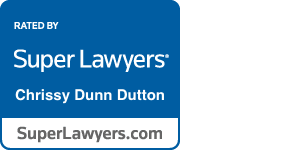 Licensed in Ohio, Indiana, & Kentucky
Chrissy has significant courtroom experience and represents clients in state, federal, and appellate courts throughout Ohio, Kentucky, and Indiana.
Meet Chrissy Dunn Dutton Esq.
Chrissy handles a range of pre-suit and general civil litigation matters. Before joining BHMK Law in 2019, Chrissy most recently practiced for six years at an international Am Law 100 firm, regularly representing mortgage servicers in contested matters.
Chrissy is also a trained collaborative law professional, equipped to offer interested family law clients a revolutionary team approach to divorce and dissolution of marriages. Through collaborative divorce, a couple works cooperatively to transition from a married family to a divorced one and end their marriage in peaceful, less adversarial way.
Chrissy is a strong advocate for her family law clients, but understands the sensitive nature of divorce, custody and child support disputes, and the impact that litigation has on divorcing parties and their children. Chrissy seeks alternative solutions where appropriate to minimize the emotional toll and financial cost of litigation.
Chrissy is proud to work on the BHMK team alongside some of the region's most trusted lawyers in the areas of probate, corporate and civil litigation, real estate and family law, to provide general outside counsel and assist clients with a wide range of legal issues.
Outside the Law Firm
Chrissy resides in Northern Kentucky with her family. She seizes the opportunity take in local sporting events or concerts, and attend local festivals whenever possible. She also enjoys trying out new restaurants in Northern Kentucky and Cincinnati's vibrant dining scenes, and being a tourist in her own town. She is a runner and enjoys traveling and exploring new cities while on a run. Outside the Firm. Chrissy enjoys music and loves singing and performing. She has regularly performed at local events, including the CBA's annual Bench Bar Social and annually at the Rock the Foundation Charitable fundraiser. She also co-wrote and performed a song with rock and roll hall of famer Bootsy Collins in 2012.
Areas Of Practice
Civil/Business Litigation
Family Law/Divorce
Creditor's Rights
Employment Law
Personal Injury/Wrongful Death
Products Liability
Landlord/Tenant Issues
Contractual Disputes
Appellate Practice
Insurance Law
Business Consultation
Contested Consumer Financial Services
CFPB Complaints
TILA, RESPA, FCRA, FDCPA, TCPA defense
Lien Priority Disputes
Tax Sales
Trespass
Conversion
Eminent Domain/Condemnation Actions
Condominium/Homeowner's Association Suits
Municipal Code Violations
Title Disputes/Quiet Title Actions
Workers' Compensation
Bar Admissions
Ohio, 2005
Indiana, 2006
Kentucky, 2007
United States Supreme Court
U.S. Court of Appeals 6th Circuit
U.S. District Court Southern District of Ohio
U.S. District Court Northern District of Ohio
U.S. Bankruptcy Court Southern District of Ohio
U.S. Bankruptcy Court Northern District of Ohio
U.S. District Court Southern District of Indiana
U.S. District Court Northern District of Indiana
U.S. Bankruptcy Court Northern District of Indiana
U.S. Bankruptcy Court Southern District of Indiana
U.S. District Court Western District of Kentucky
U.S. District Court Eastern District of Kentucky
U.S. Bankruptcy Court Eastern District of Kentucky
U.S. Bankruptcy Court Western District of Kentucky
Education
Northern Kentucky University, Salmon P. Chase College of Law, Highland Heights, Kentucky

Western Kentucky University, Bowling Green, Kentucky

B.A. - 2001
Honors: summa cum laude
Professional Associations and Memberships
2015, 2016, 2017, 2018, 2019, "Ohio Rising Star", listed by Ohio Super Lawyers
2022 & 2023 Ohio Super Lawyers
Chosen as a top three Finalist for LEGACY Northern Kentucky's 2017 Next Generation
Cincinnati Bar Association
Northern Kentucky Bar Association (including as elected board member from 2014-2017; Current Chair of Technology and Member Communications Subcommittee)
Kentucky Bar Association
Previously served as secretary, membership chair, and judicial reception chair for the NKBA Young Lawyers' section. Served as 2017-18 YLS community service chair, organizing "blessing bag" donations to the Emergency Shelter of Northern Kentucky and HONK low income housing rehabilitation project
Salmon P. Chase Inn of Court
Active member of NKU Chase Law Alumni Council since 2010, including as past-president (2018-19) and vice-president (2017-18)
Volunteer mediator for NKBA YLS Truancy Mediation Program
Past presenter for NKBA #MATCH Mentor Program on ethical attorney conduct
Active volunteer at NKU Chase Law School, including as a member of the Dean's Board of Visitors
Active Member of the Charities Guild of Northern Kentucky, a 501(c)(3) non-profit providing shoes to local school children – Shoe Fund Co-Chair and Happy Feet Ball Fundraising Sponsorship Committee
Past secretary and co-chair of fundraising for Friends of Gentry Aubrey, Inc., a 501(c)(3) non-profit memorial foundation providing scholarships to Connor High School and NKU Chase Law School Students