It's amazing living in a growing and profitable city. Cincinnati has seemingly bloomed before our very eyes over the last decade, the result of the passion and commitment of amazing people and organizations dedicated to seeing the buildings, architecture, and environment in their optimal condition (and filled with modern businesses providing quality to the lives of Cincinnatians.)
This weekend get out and explore your new city,
Take the Rooftop Terrace Tour
Recently a friend from Portland visited, it was her first experience in Cincinnati. After going to Findlay Market, Red River Gorge in Kentucky, Newport Aquarium, and bike riding along The Banks of the Ohio River it was time to take her out on the town. The SOLUTION for the evening was the "Rooftop Tour" Theme.
The SOLUTION for the evening:
the "Rooftop Tour" Theme
For this rooftop themed tour you do not need to overdress, but you should look sharp. Dress hip but be ready to walk and mingle. There will be good looking people the whole way and you will want to interact.
For this tour bring your walking shoes.
Start with Dinner at The View at Shires Garden
To start your rooftop evening tour you will need dinner reservations at The View at Shires Garden. Make your reservations early to make sure you get an outside terrace table. Trust me, it's worth it.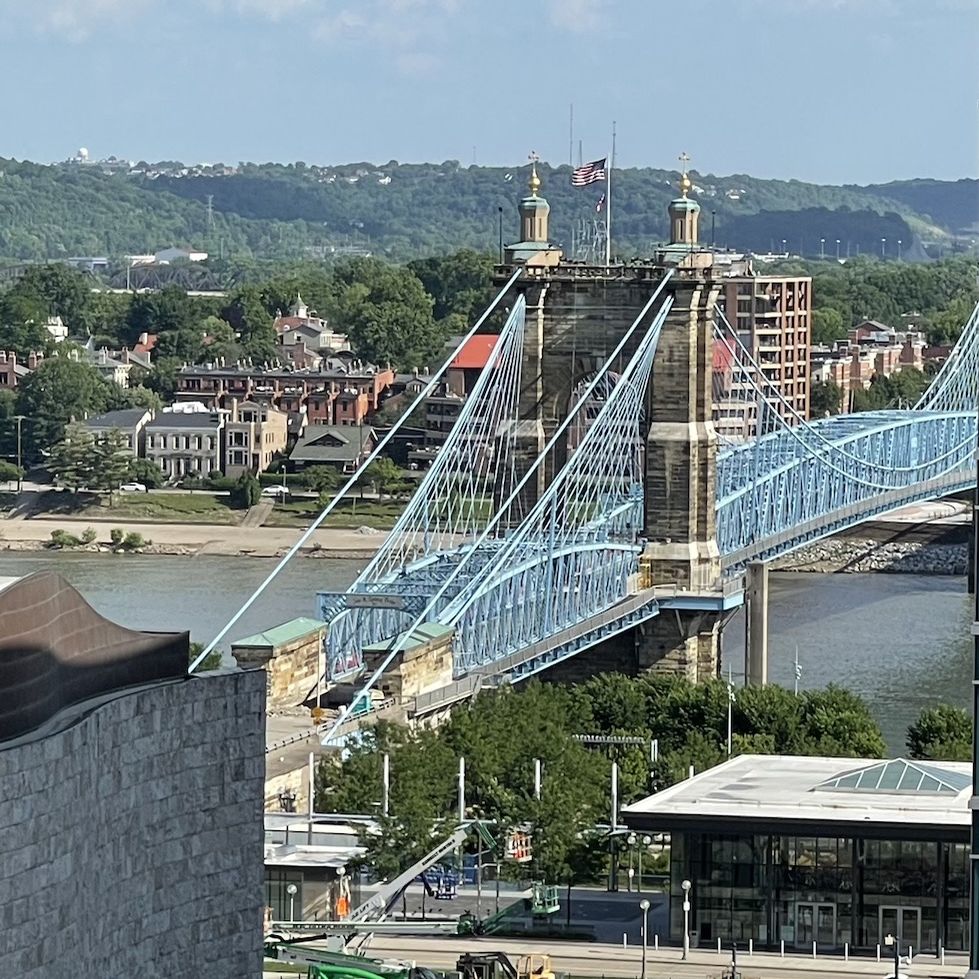 The views of The Banks, Roebling Suspension Bridge and the Ohio River is a perfect perch for white table cloth dining in a relatively casual atmosphere. Our waitress informed us of a special that was not on the menu, it was superb! Compliments to the chef! A classy environment for dinner and drinks.
A Nice Walk to the AC Upper Deck
After dinner if you are feeling adventourous take a short walk through the new DORA zone outside of Great American Ball Park on your way to the AC Upper Deck by Mariott for after-dinner drinks. The new DORA Zone, a Designated Outdoor Refreshment Area, is on East Freedom Way between Great American Ball Park and Rosa Parks Way (Vine St.).
The AC Upper Deck entrance is on Joe Nuxall Way across the street from the Stadium. Go through the lobby and hit the elevators. A true bar terrace, don't expect food at AC Upper Deck but instead get drinks and enjoy the views and the other rooftop drinking dwellers.
Often a younger crowd here the Upper Deck at the AC Hotel by Mariott is a great rooftop bar venue; perfect for a younger crowd impressed with having drinks with views. The kids love it, but being the more sophisticated person you are you may skip on or even head directly to our next rooftop destination.
The Marriott Autograph Collection Restaurant and Rooftop Bar
This place is incredible! A masterpiece of design and class. The restaurant on the main floor has an Italianate interior design, creating a cool dining atmosphere. Board the elevators to make your way to the rooftop bar and terrace to enjoy fantastic views of downtown from the East as well as fireplaces, couches, and classy comfort while having drinks with your loved ones.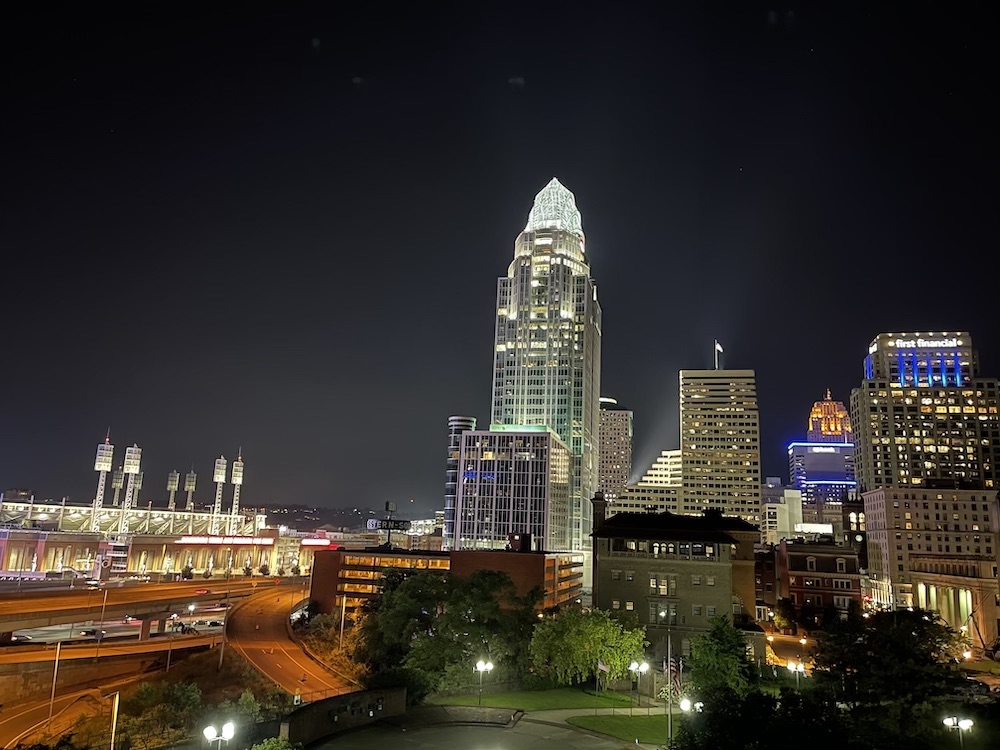 View a wonderful collection of images of the Autograph Collection, here.
Top of the Park at the Phelps Hotel
Finally topping off your Rooftop Bar & Resturaunt tour in Cincinnati, go across Lytle Park to visit Top Of The Park.
With food, drinks, and class all at their height, Top of the Park provides it all and is a fitting end to a list of spectacular new venues in downtown Cincinnati that offer open-air class and world-class views.
Cincinnati Solutions Law Firm
So you want to entertain your loved ones this weekend... The SOLUTION: take them on a rooftop bar in downtown Cincinnati. Aside from their beautiful high perch in the city, the coolest thing about these bars is that the buildings they are all in are stunning and immaculate. As you enter these buildings there is cool art and architecture that set your emotions ready to enjoy a classy atmosphere.
Our final SOLUTION for a good time? Talk to people outside of your group. Meet and mingle with your fellow Cincinnatians as well as visitors. It is no coincidence that you both ended up in the same time and place,
Find Out Why.
BHMK is a downtown Cincinnati law firm serving Cincinnati, Ohio Businesses and the Families behind them. Let's Grow Together! Speak to an estate planning attorney today.